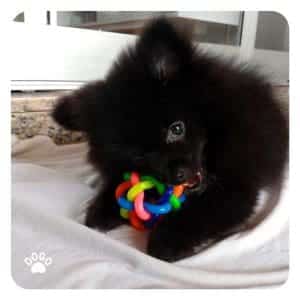 Are you a new puppy parent or you're expecting to be one very soon? If so, this New Dog Training Program is perfect for you! You will teach your pup 42 key skills in 4 weeks.
The main focus of a new dog parent should be socialization, potty training and building up the friendship. The Dogo New Dog Program is mostly about having a lot of fun together and showing your dog that you are cool to be around however it also touches the basics of obedience training. Furthermore, the program focuses on building a strong bond between the puppy and its owner. You will learn how to communicate with your dog effectively and understand its body language. The program will also teach you how to play with your pup in a way that strengthens your relationship and makes your pup happy.
The program is intended for 2-months-old puppies and onwards.
Things you will need: Crate, collar, leash, bouncy ball, rope toy.
Week 1:
The first week's focus is showing the puppy that it is safe and fun to be with you. Among others, you will teach your puppy potty training – a skill for life and hand feeding to make an association that good things come from you. Additionally, you will work on bite inhibition because biting shouldn't be tolerated in any circumstances, as well as crate training to prevent unsupervised roaming. Later on, we will explain you how to use clicker so your dog understands that after a click signal comes a treat. It is a necessary base for further training.

Week 2:
During the second week you will incorporate basic obedience commands in the training. You will practise with your puppy how to sit, come or lay down to improve their attention skill. Additionally, you will work on their guarding behaviour to teach them that your presence while they are eating or playing is no threat.
Week 3:
On the third week your puppy will learn how to behave well on a walk. Among others, how to politely walk on the leash and being held by the collar (Gotcha trick). You will keep building a strong relationship with your pup by practising exercises such as Take it or Give back so you puppy gets more used to positive reinforcement training and enjoys spending time with you. By spending quality time with your furry friend and practising positive reinforcement training, you will create a beautiful life-lasting bond that will bring you joy and happiness for years to come.
Week 4:
Last week you will practise all the tricks you learned so far to master the basics. Furthermore, you will try out more advanced versions of them. Therefore, you will be asked to do the training outside or on different surfaces so your dog learns to ignore distractions or moving objects and will be able to focus on you and wait for further cues.
Enroll now!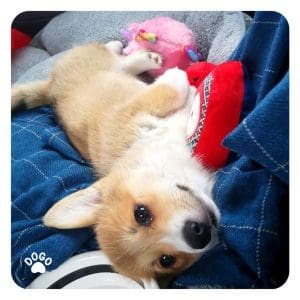 During the whole training program Dogo provides you with training tips on the most common puppy training issues. We will advice you how to stop your furry baby from crying at night or how to prevent your puppy from eliminating at home.
Don't worry, you will get a chance to practise what you've learned every step of the way by completing easy, real life tasks. Therefore you will see the effects immediately, isn't it great?
Enroll in Dogo New Dog Program and enjoy creating a beautiful life-lasting bond with your furry family member. If you need assistance, we're here to help!
Create a Personalized Training Plan for your Dog