We believe that to build a strong friendship we need to spend quality time with our friends, let it be training, playing or relaxing in a park together. Through positive reinforcement of good behavior, we can show our dogs what pleases us and what is expected.
Dogo trainers will guide you through training by reviewing video exams and answering your questions in the helpline.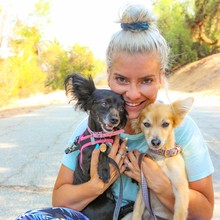 Sylvia Wes
An ABCDT certified trainer in Los Angeles. Currently she works as the head trainer and behavior specialist at Up Dog LA. She is a science based, positive reinforcement trainer teaching dogs and humans how to have better relationships through kind, loving communication. A pet professional with over a decade of experience, she is a dog lover through and through.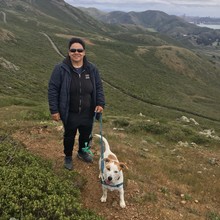 Angela Gardner
She is a professional dog trainer certified from The Academy for Dog Trainers and from Treating Separation Anxiety in Dogs. She started working with dogs when she owned a dog walking business in San Francisco for 12 years. Currently, Angela trains via online consults for dog owners around the world. Her mission is to be a bridge for easier communication between dog and owner. 
Jeny is a certified trainer living and working in Maryland but is originally from New Jersey. She made a bold career move in the year of 2017 after 14 years as an Ophthalmic Photographer. Her true passion and joy is in animal behavior and helping pet parents develop happy and healthy relationships with their dogs that will last a lifetime. Jeny earned the Certified Professional Dog Trainer-Knowledge Assessed (CPDT-KA) credential from the CCPDT. She enjoys teaching group puppy classes, basic and advanced obedience private lessons. Jeny shares her heart and home with her Shih Tzu, Dalleh, Maltese, Dooley, and her rescued Chihuahua Terrier mix, Rocko. 
Heather Gibbs
Heather is a certified Canine Good Citizen Evaluator, Animal Behavior College Mentor, International Association of Animal Behavior Consultants Shelter Behavior Affiliate, as well as a Certified Pet Dog Trainer (Knowledge Assessed) from the esteemed Certification Council for Professional Dog Trainers. Heather has worked in animal behavior, training, and care for several organizations including the Animal Rescue Foundation of Texas and Southeastern Guide Dogs. She is currently the Behavior and Training Manager for the Humane Society of Pinellas in Clearwater, Florida where she works to improve the lives of pets looking for adoptive homes through reward-based training, behavior modification, and enrichment.
Claudia is originally from Germany, where she achieved a doctor's degree in veterinary medicine. After working briefly as a veterinarian, she moved in 1999 to Wasilla, Alaska, USA, where she runs her own dog training facility, The Better Companion. Claudia is the lead trainer and behavior consultant, focusing on positive reinforcement training. Claudia is a CPDT-KSA (Certified Professional Dog Trainer – Knowledge and Skills Assessed), a CGC® (Canine Good Citizen), and STAR® Puppy evaluator with AKC (American Kennel Club), an IAABC-ADT (Accredited Dog Trainer with the International Association of Animal Behavior Consultants), and a member of the APDT (Association of Professional Dog Trainers).
Monica has been working in the animal training field for over 15 years. She has worked for various marine animal entertainment and zoological parks. She has trained a large variety of domestic and exotic animals. She's been a Canine Good Citizen evaluator for the last 8 years and has presented animals on stage for educational performances and live TV presentations featured on the Today and Tonight Show. Currently she resides in Alaska working as primarily an obedience instructor for group dog training classes as well as addressing specific behavioral issues via private lessons. She has a 7-year-old Border Collie named Bo who has acquired her CGC Title, and a 6-year-old Bloodhound named Hank (who has acquired a very big place in her family's heart. 
Alexa began training horses at an early age where she learned how to be successful using positive training techniques. She went to college at the University of California, Davis, majoring in animal science and behavior. After college Alexa became a dog trainer for Canine Companions for Independence. Alexa trained service dogs for assisting people with hearing or mobility issues as well as therapy dogs for helping kids who were on the autistic spectrum or had special needs. Alexa is a Certified Professional Dog Trainer – Knowledge Assessed and a Canine Good Citizen test proctor. Before relocating to Florida, Alexa spent 15 years owning her dog training and pet care business where she taught positive training to help dog parents train their dogs by building trust and increasing their bond.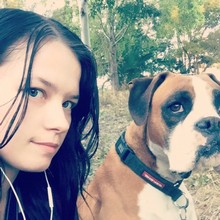 Skye Marion
Skye has worked in many areas of the animal industry including a Pet Shop, Zoo, Veterinary Clinics, Pounds, Animal Rescue and continues to work on furthering her education. With qualifications in Dog Training and Behaviour, Scent Detection with Dogs, Assistance Dog Training, Dangerous Dog Handling and Assessment, Animal Studies certificates 2 & 3 as well as many smaller certificates, Skye is always looking to learn more about dogs and their behaviour. One of her main interests is reactivity in dogs after her own boxers' reactivity sparked her interest in dog behaviour and brought her to where she is today.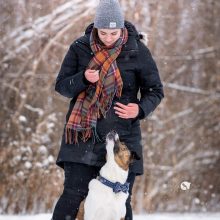 I'm a professional dog trainer based in Montréal and reactive dogs are my specialty. I'm the owner of the @reactivedogsotw account on Instagram that helps thousands of people around the world with science-based methods and concept training. I speak French and English and love to see the owners and their dogs learn and evolve together.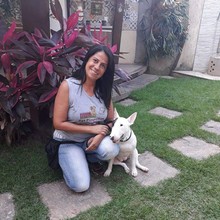 Paula Garcia
I am a dog trainer, specialised in behavioural problem treatment and obedience dog shows. I have several degrees as a dog trainer and a post-graduate in Behavioural Disorders. In my work I always try to bring harmony and well-being to the relationship between humans and their dogs, through clear and positive communication. I am also a lecturer for people who want to seek a career in dog training.
She is a dog trainer known for introducing sport obedience in Brazil and for her respectful methods with her dogs. Her objective is to bring knowledge to dog owners about behavior, canine communication, and dog training, in order to prevent behavioral problems, so that everyone can have a harmonious relationship with their dogs.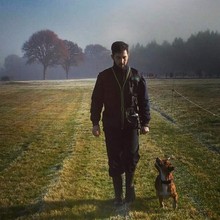 Nicolás Dzikowsky
I am a professional dog trainer, graduated from the Faculty of Dog Training in the city of Buenos Aires, Argentina. Accredited by the A.N.A.C.P. in Spain. I have attended more than 20 courses and seminars dedicated to dog training and I participate in sports training competitions such as International Class Obedience (OCI) and Utility Sports Obedience (ODU).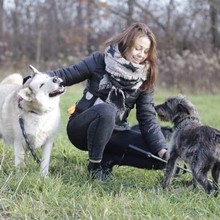 Anita Leszczyk
I help people understand their pet's emotions, and I teach the dog to control them. I show the owner that a dog that destroys their slippers and pulls on the leash is not a dog to be exchanged. I hold the title of "Dog Trainer of I and II degree" and certificates of participation in various seminars, such as: "Behavioral disorders therapy in dogs: aggression, anxiety, hyperactivity'', "Dog communication, threatening and aggressive behaviour'', published by the Polish Academy of Zoopsychology and Animal Therapy. I currently study to become a professional animal behaviorist – with a specialization in dog behavior.